Thank you for visiting our site !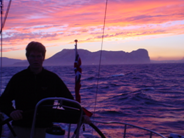 ScottYacht was formed to provide expert professional yacht services to the industry and discerning private clients.
The Managing Director is Kevin Scott who holds the RYA/MCA Yachtmaster Ocean certificate with commercial endorsement (Sail and Power). He has completed over 200,000 nautical miles as Skipper on vessels up to 120 feet and has personally delivered yachts from many of the worlds leading yards including Hallberg Rassy, Swan, Sweden Yachts, Najad, X-Yachts, Island Packet, Beneteau, Lagoon and many others.
The specialist skills available within our team have led us to be asked to offer other services and we have added crew supply, own boat tuition and pre delivery inspection to our list of services.
In summary, whatever your requirement, please call us. You will find us capable, competitive and professional, delivering the highest standard of service in the industry.