ScottYacht Crew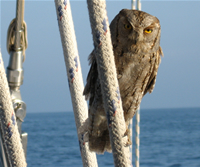 The success and reputation of a delivery company very much depends on the high standards of its Crew. To be part of a ScottYacht delivery is a rewarding and enjoyable experience at all levels and most crew come back for more!
It's a great way of increasing your seagoing experience, working with a variety of different yachts and seeing new places and people. That said, it's not for those who like to sit back and let others take care of things. Crews usually consist of three or four people and this means you will be taking a full and active part in the operation of the vessel over the course of the delivery, including the preparation for sea and cleaning the boat to ScottYacht standards when you arrive at your destination.
If you are interested in sailing with one of the best supported and experienced teams in the industry, take a look at the requirements below and fill in and return the crew form. We don't charge for Crew registration.
Skippers
ScottYacht skippers work to the highest standards in the industry. As a minimum requirement you must hold the RYA/ MCA Yachtmaster qualification with commercial endorsement for general deliveries and hold a Yachtmaster Ocean qualification for longer deliveries involving extended time offshore. More importantly, you should be able to demonstrate command experience on a range of vessels and the ability to quickly acquire the confidence and respect of your crew, who may include owners or volunteers.
Potential skippers will be expected to complete an assessment passage as Mate before being considered for work. If successful, you will be joining one of the most experienced and best supported teams in the industry.
If you feel that you would like to join our list, please fill in the crew form or send your CV to kscott@scottyacht.com.
Mates
All of our Mates are qualified to take charge of a vessel but for a variety of reasons prefer at this stage to operate in a supporting role to the on board Skipper. Becoming a ScottYacht Mate is also great way of expanding your experience whilst working alongside some of the most respected Skippers around.
In order to act as Mate on a ScottYacht delivery, you must hold the RYA/ MCA Yachtmaster qualification or recognised equivelent. Mates will be capable yachtsman who have the knack of providing support to the Skipper but who have the ability to take control and ensure the safety of boat and crew in an emergency.
Deckhands
Although it is not essential to hold a formal qualification to act as a Deckhand, you must be able to demonstrate sufficient competence and experience to stand a watch alone at night. As a guide, most successful deckhands are at the level of RYA Day Skipper or above.
For all positions, please fill in the Crew Registration Form or send your resumé to crew@scottyacht.com.